It's spooky time and that means it's time to fill your stomach with candy and other sweet treats and go watch some Halloween movies or partake in the many Halloween-themed events happening in your area. Did somebody say haunted houses?
If you don't have any big plans for the holiday, that's completely fine too. There's nothing wrong with hanging around the house and relaxing. In honor of Halloween though, we wanted to take a look at some Halloween-themed fire pits of ours that are perfect for Halloween.
Harry Potter
Harry Potter has played a huge part in the many lives of children growing up. When we got the request to custom design a Harry Potter-themed fire pit, we were thrilled! We think it turned out very nice, and once you get that fire going, it looks magical. Does this give you an idea for your very own Halloween-themed fire pit?
A lot of people like to dress up as their favorite Harry Potter character for Halloween, and it's so fun to see everybody's reactions when they spot somebody else also dressed in Harry Potter attire. It's neat to see how being a part of the same fandom can bring people together. If you also get a Harry Potter-themed fire pit, you can bring plenty of people together.
Death Star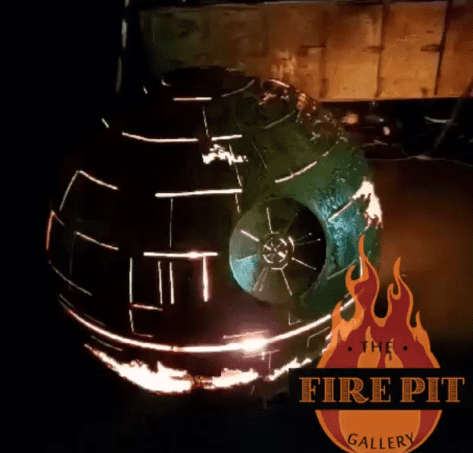 Speaking of fandoms, do we have any Star Wars fans reading this? If so, then you need to check out this death star fire pit we did for a client. It's truly a fire pit that's out of this world. Do you have a great idea for a Star Wars-themed or a regular Halloween-themed fire pit? Tag us on social media @thefirepitgallery and share your ideas with us.
Just like with Harry Potter, plenty of people will take Halloween as an opportunity to dress up as their favorite Star Wars character, and they love to meet other people who are also dressed up in Star Wars attire. It can bring people together and friendships can form this way. Any friends you make this way, you can order your very own Star Wars-themed fire pit and invite them over.
Enchanted Fire Pit
Looking for an even more magical fire pit for your backyard? Then take a look at our enchanting fire pit. Doesn't the little fairy look so cute with the fire in the background? I also really like how the butterflies seem to blend in with the leaves in the trees. It gives the Halloween-themed fire pit even more of a magical feel to it.
Fairies are a pretty cute and creative costume idea. If you like to make the costumes yourself, you can experiment with different color schemes and different shaped wings. If you really want to get fancy, you can even match some eye makeup to the colors of the fairy wings. The possibilities are endless.
Then after a hard night's work of trick or treating, you can all relax by your Halloween-themed fire pit and enjoy the bounty of candy that's been collected. What a perfect way to end the night!
Wizard Fire Pit
The wizard is here to tell you that it would be pretty cool if you got a fire pit with him on it! You can't think of Halloween without thinking about wizards. They are like a staple of Halloween. So it only makes sense for us to have this wizard on a Halloween-themed fire pit.
Wizards and witches are pretty popular options for costume ideas for Halloween. I know I've gone as a witch for trick or treating. You can also be pretty creative with how your wizard or witch costume looks. Does yours have a wand, a broom, an animal sidekick? Whatever you add to your costume, it's going to be a success. Then afterward, you can come home and enjoy your candy by your very own wizard, witch, or any other Halloween-themed fire pit.
Share Your Ideas
Do you have any cool ideas for a Halloween-themed fire pit? Let us know by tagging us @thefirepitgallery. We would love to hear what you guys think would make for an excellent Halloween-themed fire pit. Maybe some of those ideas will come to life and be featured in next year's Halloween article.