Meet The Fire Pit Gallery Family
The Fire Pit Gallery designs and creates unique Wood and Gas fire pits, custom spheres and bowls that are perfect for any outdoor space. Handcrafted in the USA with American-made steel, you can be assured your functional art lasts a lifetime.
The family-owned company is located in Bristolville, Ohio but started in Niles, Ohio with Jason Crisp's idea to create custom fire pits. Jason, a certified welder, and his wife Melissa Crisp, an artist, soon enlisted the entrepreneurial expertise of Melissa's parents, Tom and Marlene Appel.
A month after forming the new business in June 2010, The Fire Pit Gallery sold its first two fire pits to a local Restaurant.
In April 2013, a photo of the Up North Fire Pit Sphere went viral on the Internet, sparking world-wide attention for The Fire Pit Gallery's creations. The company soon shipped its first of many international orders to Australia.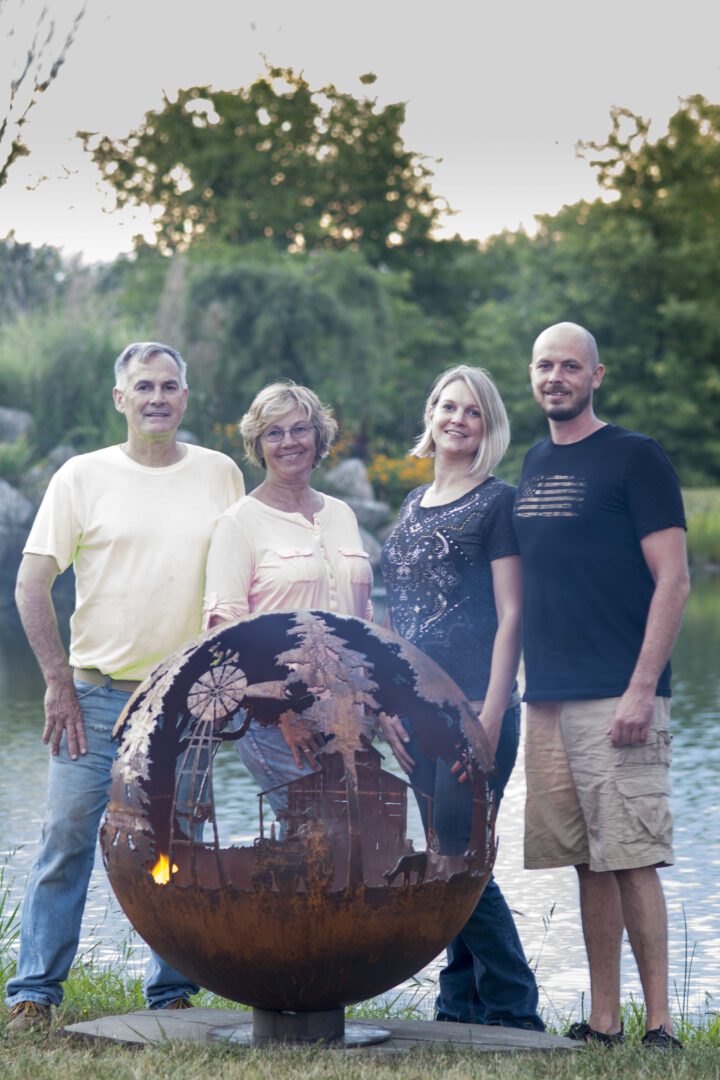 Through the combined experience, talent and effort of both families, the Fire Pit Gallery soon outgrew its location. To accommodate for the high volume of orders, the family moved the business in August 2013 to a larger facility in Bristolville, Ohio.
Melissa Crisp is the artist who designs and cuts most of the bowls. A true artist by nature, Melissa was creating, sketching, sculpting, and painting since early childhood. Her passion took off when she was given a custom-built "art center" in the fourth grade and took her all the way to an art scholarship to the University of Nebraska in Omaha after high school. She is truly in her element with steel as her medium for artistic expression.
Jason is our certified welder and preps and finishes the bowls. Melissa hand draws every bowl with her designs and the cuts them out with a plasma cutter along with Jason to turn the bowls into custom art.
Tom's focus is on growing the business and keeping the shop well supplied with as much recycled steel as possible and Marlene works in the office doing the accounting, shipping, answering emails and takes phone calls.
Contact us through our contact form, phone, email or social media channels. In the meantime, check out the steps we take to create one of our artistic fire pits!