Looking for a neat way to interact with people while seeing a beautiful array of flowers? The Philadelphia Flower Show is the place for you. This Flower Show is the largest and longest-running horticultural event. It's such a neat way to meet cool vendors. Let us tell you about our experience there.

Our Experience
We went to the Philadelphia Flower Show in June and spent two weekends telling people at the event about our fire pits and showing some examples of the sphere designs they could have in their backyard! We had a wonderful time meeting everyone and seeing all the amazing floral displays exhibited throughout the show.
This event was an excellent opportunity for us to help get the word out about our products and let people see what goes into every fire pit we have to offer. In addition, this garden-centered show gave us the perfect space for putting a face to our labor-intensive craft and sharing the love of what we do.
Now, if you've never heard of the Philadelphia Flower Show, it's a massive exhibition show for unique and intricate flower exhibitions and garden-centered businesses coming together to delight a wide audience. This year was the first time it was held outdoors to adhere to the safe public gathering guidelines, and if you couldn't make it this year, or if you've never been, we highly recommend checking it out!
Here are the highlights of our time at the Philadelphia Flower Show.
Sizzling Good Time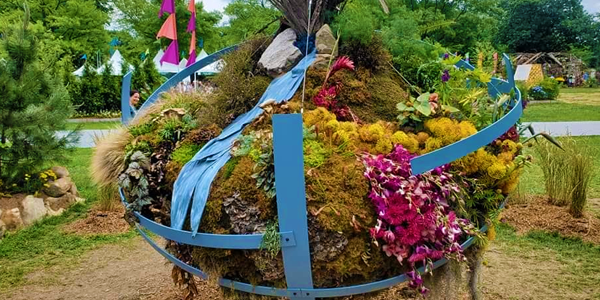 We should tell you that things got hot, and not just our fantastic fire bowls and spheres on display. The show took place during the east coast's glaring heatwave, and this made our steel fire pits stand out even more against the delicate flower arrangements and made us highly thankful for our tent.
However, even with the roasting temperatures, we had the opportunity to speak with many patrons during the show, explore the incredible floral displays, and showcase the perfect seasonal setting for our fire pits.
Friendly Faces
Another highlight for us was the people who both worked at and attended the flower show. Everyone we met was so lovely and fascinated by what we did, and it made participating in the show so much fun each weekend. The patrons who stopped to speak with us all said very kind and encouraging comments about our work and asked us lots of questions.
Perhaps the one question we got asked the most while promoting at the show was, "How do you start a fire?" which is so funny, but it makes sense we guess if you don't have the fire-starting touch, it's best to ask the alleged experts. Which we are, we even wrote an article detailing our professional advice for starting a fire in one of our amazing fire pits. 

Final Thoughts
All in all, the Philadelphia Flower Show was a fantastic time, and we highly recommend everyone who has an interest or patronage for these types of businesses to attend next year and see all the incredible things these floral artists create. If you want to learn more about the show, you can check out the official website or head over to our Facebook page and see all of our pictures from the show if you haven't already.