When do you think the best season would be to have your fire pit burning? Probably late spring/summertime, right? Well, our fire pits are built to last and can withstand the weather all year long, no matter where you live. Don't believe us? Let's show you!
Spring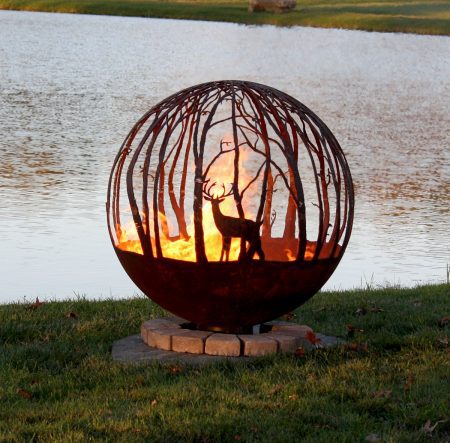 Flowers are blooming, and people are replanting their gardens and getting ready for the local water park to open for the season. When the sun goes down and the cool air sets in, gather with your friends and family and light the first outdoor fire of the season.
It's not too hot or cold, and firewood is relatively cheap because the peak season for bonfires and summer camps hasn't started yet. Just Wood has an article detailing that the best time to buy firewood is around summer because then the logs have had an adequate amount of time to dry out from the previous year. So get your very own fire pit for all seasons and light it up throughout the season and make memories.
Summer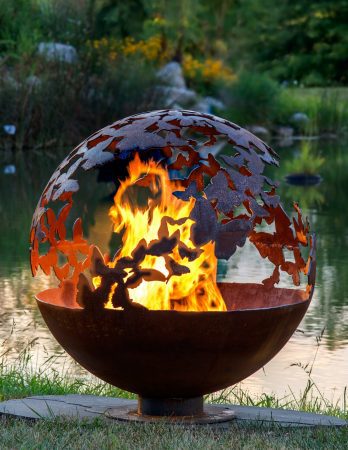 The heat is on, and school is out! Kids can stay up with you all night, and boy, do they love bonfires. It doesn't matter if it's at summer camp or in your backyard; s'mores and watching the fire roar is perhaps the best part of those summer nights.
Our fire pits are the perfect way to spend those fun nights with family and create unique memories without ever leaving the comfort of your own home. Of course, summer looks different depending on where you live, but we promise that a fire pit sphere will look fabulous no matter where you are!
Fall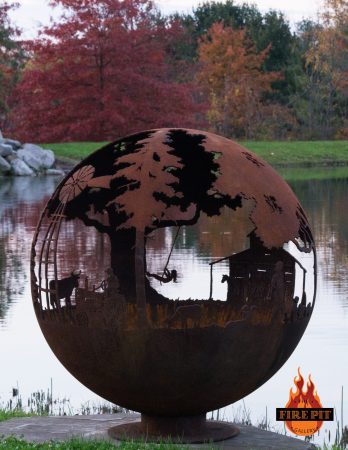 Yes, people will often burn their fire pit well into the fall months because the weather is still pretty warm. The amount of precipitation of any kind is still relatively low compared to other seasons. Meaning, your beautiful fire pit is for all seasons.
Burning fire, a crisp autumn night with cider or pumpkin spice if you're into that sort of thing, and warm fuzzy sweaters make for the perfect nighttime ritual no matter where in the world you live between September and November.
Winter
You might not believe that you can still have a fire in the middle of winter, but you absolutely can! Our steel fire pits are specially treated to withstand the elements no matter what the climate is like by you.
Even if you live somewhere that doesn't get four feet of snow overnight, having a nice and cozy place to enjoy your amazing fire pit will make a beautiful tradition for chilly December. Or, if you don't want to use it, you can leave it outside uncovered. The snow and rain can't damage it; we made sure of it!
Firepit spheres and bowls are the perfect nighttime centerpiece no matter where you live or what time of year it is. So don't worry about limiting yourself to just a few months out of the year. You can use your fire pit for all seasons.